INFORMATION FOR PARTICIPANTS
---
Environmental Engineering Books
---
Management of Municipal Solid Waste
Management of Municipal Solid Waste

| | | |
| --- | --- | --- |
| ISBN 81-85589-42-9 | Rs. 695.00 | $.30.95 |

Author:

T.V. Ramachandra,
Energy and Wetlands Research Group,
Centre for Ecological Sciences,
Indian Institute of Science,
Bangalore 560 012, India. E-mail: cestvr@ces.iisc.ac.in
Contents:
Introducing Municipal Solid Waste Management * Classification of Solid Wastes * Solid Waste Managements (SWM) * SWM: The Indian Scenario * Waste Generation Aspects * Waste Stream Assessment (WSA) * Waste Generation and Composition * Waste Characteristics * Health and Environmental Effects * Case Study: Status of Waste Generation in Bangalore * Environmental Effects of Landfill * Landfill opera­tion Issues * Waste Disposal: A Case Study of Bangalore * Waste Processing Tech­niques * Purpose of Processing * Mechanical Volume and Size Reduction * Component Separation * Drying and Dewatering * Source Reduction, Product Re­covery and Rcycling * Source Reduction: Basics * Significance of Recycling * P I a n­ning of a Recyling Programme * Recycling Programme Elements * Commonly Recy­cled Materials and Processes * Case Study: Source Reduction and Recycling in Bangalore * Recovery of Biological Conversion Products: Compost and Biogas *Composting * Biogasification * Composting and Biogasification: Environmental Effects * Incineration and Energy Recovery * Incineration: An Introduction * Plan­ning an Incineration Facility * Incineration Tecnologies * Energy Recovery * Air Emis­sion and its Control * Environmental Concerns * Hazardous Waste: Management and Treatment * Hazardous Waste: Identification and Classification * Hazardous Waste Management * Hazardous Waste Treatment * Pollution Prevention and Waste Minimi­sation * Hazardous Wastes Management in India *Integrated Waste Management (IWM) * Basics of IWM * Life Cycle Assessment (LCA) Public Education and Involvement
Soil and Groundwater Pollution from Agricultural Activities
Soil and Groundwater Pollution from Agricultural Activities

| | | |
| --- | --- | --- |
| ISBN 81-85589-46-1 | Rs. 695.00 | $.30.95 |

Author: T.V. Ramachandra

Contents:
Agricultural Activities and Environmental Impacts * Major Agricultural Practices * Classification of Crops * Nutrients * Crop Diseases and Control * Agricultural Situa­tion in India * Soil- Processes and Properties * Introduction to Soil * Soil Formation * Soil Degradation * Classificati09 of Soil * Characteristics of Soil * Constituents of Soil * Types of Soil in India * Groundwater Hydrology * Groundwater: An Introduc­tion * Occurrence and Distribution of Groundwater * Groundwater Movement * Groundwater Yield * Groundwater Recharge * Soil and Groundwater Pollution * Soil Pollution * Groundwater Pollution* Environmental Influences and Groundwater Level * Groundwater Quality and Analyses * Soil Quality and Analyses * Case Study: Groundwater Quality in India * Irrigation and Drainage: Impacts and Remedial Measures * Irrigation Effects * Drainage: Merits and Demerits * Remedial Measures * Example of Leaching Requirements * Case Study: Impacts of Irrigation and Drainage in India * Environmental Impacts ofFertilisers * Inorganic Fertilisers * Organic Fer­tiliser * Fate Pathways and Effects of Fertilisers * Mode, time and Quantity of Ferti­liser Application * Pesticides and Environmental Impacts * Properties of Pesticides * Movement of Pesticide * Types of Pesticides * Commonly used Pesticides in India and their Properties * Environmental Impacts of Pesticides * Appropriate use of Pest:­cides * Monitoring of Soil and Groundwater Pollution * Objectives and Scales of Monitoring * Monitoring Strategy * Groundwater Monitoring Plans * Monitoring by Sampling in Unsaturated/vadose zone * Monitoring the Saturated zone * Data Acquistion and Processing * Soil and Groundwater Treatment * Control of Point and Non point Sources of Pollution * Treatment Methods * Soil Remediation * Groundwater Treatment * Conservation and Management of Soil and Groundwater * Soil Conser­vation *Groundwater Management * Sustainable Agriculture * Eco-watershed Man­agement
Environmental Management
Environmental Management

| | | |
| --- | --- | --- |
| ISBN 81-85589-47-X | Rs. 695.00 | $.30.95 |

Authors: Vijay Kulkarni & T.V. Ramachandra
Contents:
Principles of Environmental Management * Introducing Environmental Managment (EM) * Ecosystem Concepts * Participants in EM * Ethics and the Environment * Inter­national Environmental Movement * Environmental Concerns in India * Policy And Legal Aspects of EM * Introduction to Environmental Policies * Environmental Policies and Programmes in India * Environmental Laws and Legislations * Environmental Legislations in India * Environmental Impact Assessment (EIA) * Introduction to EIA * Evolution of EIA * Forecasting Environmental Changes * Strategic Environmental Assessment (SEA) * Environmental Clearance Procedure in India * EIA Documenta­tion and Processess * Preliminary Stages of EIA * Impact Prediction, Evaluation and Mitigation * Impact on Decisions * Participation, Requisites and Review * EIA Moni­toring and Auditing *Environmental Auditing * Introduction to Environmental Audit­ing (EA) * General Audit Methodology * Elements of Audit Process * Waste Audits and Pollution Prevention Assessments * EA in Industrial Projects * Liability Audits and Site Assessment * Auditing of EMS * Life Cycle Assessment (LCA) * Evolution of Life Cycle Assessment * Stages in LCA of a Product * A Code of Good Conduct for LCA * Procedures for LCA * Different Applications of LCA * Environmental Man­agement System Standards * Environmental Management Systems (EMS) * EMS Standards: ISO 14000 * Implementation of EMS Conforming to ISO 14001 * Benefits of Implementing ISO 14001: An Indian Scenario * Environmental Management Techniques * Environmental Monitoring * Environmental Modelling * Sensitivity Analysis * Application of Remote Sensing and GIS in EM * Environmental Profile *En­vironmental Technology Assessment * Environmental Risk Assessment * Rapid Urban Environmental Assessment * Eco-mapping * Environmental Education * Enviromental Design * Environmental Design (ED); An Exposition * ED for Manu­factured Products * ED for Buildings * ED for Developmental Planning* Environmen­tal Economics * Economics and the Environment * Environmental Valuation * Eco­nomics of Natural Rsources * Environmental and Regional Economics * Ecological Economics
Air Pollution Control
Air Pollution Control

| | | |
| --- | --- | --- |
| ISBN 81-85589-48-8 | Rs. 395.00 | $.17.95 |

Author: S. P. Mahajan

Editor: T.V. Ramachandra
Contents:
Introduction to Air Pollution * Basics of Air Pollution * Primary Pollutants * Sec­ondary Pollutants * Estimation of Air Pollutant Sources * Air Pollution: Impact, Legis­lation and Standards * Impact of Air Pollution * Environmental Legislation * Air Qual­ity Standards * Air Pollution Measurement * Ambient Air Quality Measurement * Sample Collection * Analysis of Pollutants: Analytical Methods * Continuous Air Pollution Monitoring Instruments * Prevention of Air Pollution * Concept of Source Reduction * Approaches to Source Reduction * Air Pollution Meteorology * Meteorolog­ical Aspects of Troposphere* Atmospheric Stability Aspects * Atmospheric Winds * Air Pollution Modelling * Aim of Air Pollution Modelling * Air Pollution Models * Application of Air Pollution Models * Air Pollution Cotrol Particulate Matter I * Sources and Movement of Particles * Gravity Settling Chamber * Cyclone Separators * Electrostatic Precipitators (ESP) * Air Pollution Particulate Matter II * Aerody­namic Separation of Particles * Air Filters * Wet Collection Methods * Comparison of Separation Equipment * Air Pollution Control: Volatile Organic Compounds (VOCs) * Need for Controlling VOC Emissions * Methods for Removal ofVOC * Air Pollution Control: Sulphur Dioxde and Oxides of Nitrogen * Control for Sulphur Di­oxide * Control for Oxides of Nitrogen
Municipal Water and Wastewater Treatment
Municipal Water and Wastewater Treatment

| | | |
| --- | --- | --- |
| ISBN 81-85589-49-6 | Rs. 495.00 | $.22.00 |

Authors: Rakesh Kumar & Singh R.N.

Editor: T.V. Ramachandra
Contents:
Water as a Resource: Some Related Issues * Water as a Resource * Water Characteristics and Its Classification * Water Quality * Municipal Water Supply Sys­tem * Municipal Wastewater Generation, Conveyance and Disposal * M u n i c i p a I Wastewater Disposal Systems * Pollution Control Measures * Water Treatment Pro­cesses * Basic Concepts of Treatment * Physical Treatment Processes * Chemical Treatment Processes * Water Hardness and Softening * Miscellaneous Physical Chemi­cal Treatment Processes * Wastewater Treatment: Physical and Chmical Processes * Basic Concepts * Physical Treatment Processes * Advanced Physical Techniques * Chemical Treatment Processes * Advanced Chemical Techniques * Waste water Treatment: Biological Methods * Biochemical Reactions * Treatment System * Nutrient Removal *Practical aspects of Biological Treatment Processes * Wastewater Reuse * Introduction to Wastewater Reuse * Wastewater Reuse * Sludge and Septage : Treatment and Disposal * Sludge Sources and Characteristics * Sludge Treatment Concepts and Processes * Sludge Treatment and Disposal * Septage Treatment and Dis­posal * Sludge Treatment Status in Developing Countries *Wastewater Disposal into Natural Water Bodies * Effluent Disposal Standards * Effluent Disposal by Dilution * Wastewater Disposal on land-land application * Wetland Treatment * Effluent Dis­posalon Land * Domestic Waste Disposal: Septic Tank * Sludge and Ash Disposal * Selection, Planning and Implementation Guidelines for Water * Site Survey and Investigation * Configurations and Types of Treatment Processes * Treatment Plant Operation and Control * Other Requirements
2009
TERI
TERI Press Darbari Seth Block, IHC Complex, Lodhi Road New Delhi - 110 003, India Telephone +91 11 2468 2100,24682111 Fax +91 11 2468 2144 E-Mail: teripress@teri.res.in,
http://bookstore.teriin.org/books.php
http://bookstore.teriin.org/book_inside.php?material_id=557
Capital Publishing Company 7/28 Mahaveer Street, Ansari Road, Daryaganj Ph. 23284197, 23288719 Fax:91-11-41562932 Email: capitalb@capital-publishing.com, http: www.capital-publishing.com ABOUT THE SERIES
Rapid industrialization of developing countries has led to an increasing demand for continuing professional development for environmental engineering personnel at all sectors, including industrial and infrastructure management sectors. Recognizing the need for continuing professional development, the Commonwealth of Learning (COL) provided five high quality environmental engineering texts earlier developed through a UNESCO-COL partnership to the Indian lnstitute of Science (llSc). They jointly examined the relevance of, and the degree of modification required for, offering at a distance those texts for practising professionals in environmental engineering. This resulted in a COL-funded project with llSc., taking the responsibility of coordinating and contributing to the design and development of a series of learning materials in Engineering Sciences. Based on the analysis of target audience, learning goals and objectives, and the desired course content with particular relevance to India, an outline of the content was created, which was reviewed by a committee of content and instructional design experts. The development of five self-learning environmental engineering Courses included formative evaluation by the project review committee and electronic list discussions. The summative evaluation included validation and pilot testing and brainstorm sessions to ascertain the suitability of materials to meet the project goals and objectives. The materials thus produced were revised on the basis of the feedback and are on offer at a distance currently within India. Nonetheless, these Courses when suitably adopted with contextual examples can meet the continuous professional development requirements of the developing countries in the Commonwealth. It is also believed that these Courses can be appropriately modularized to contribute to the proposal put forward by the World Federation of Engineering Organizations for the World Engineering Partnership for Sustainable Development.
Glimpse of EM course 2022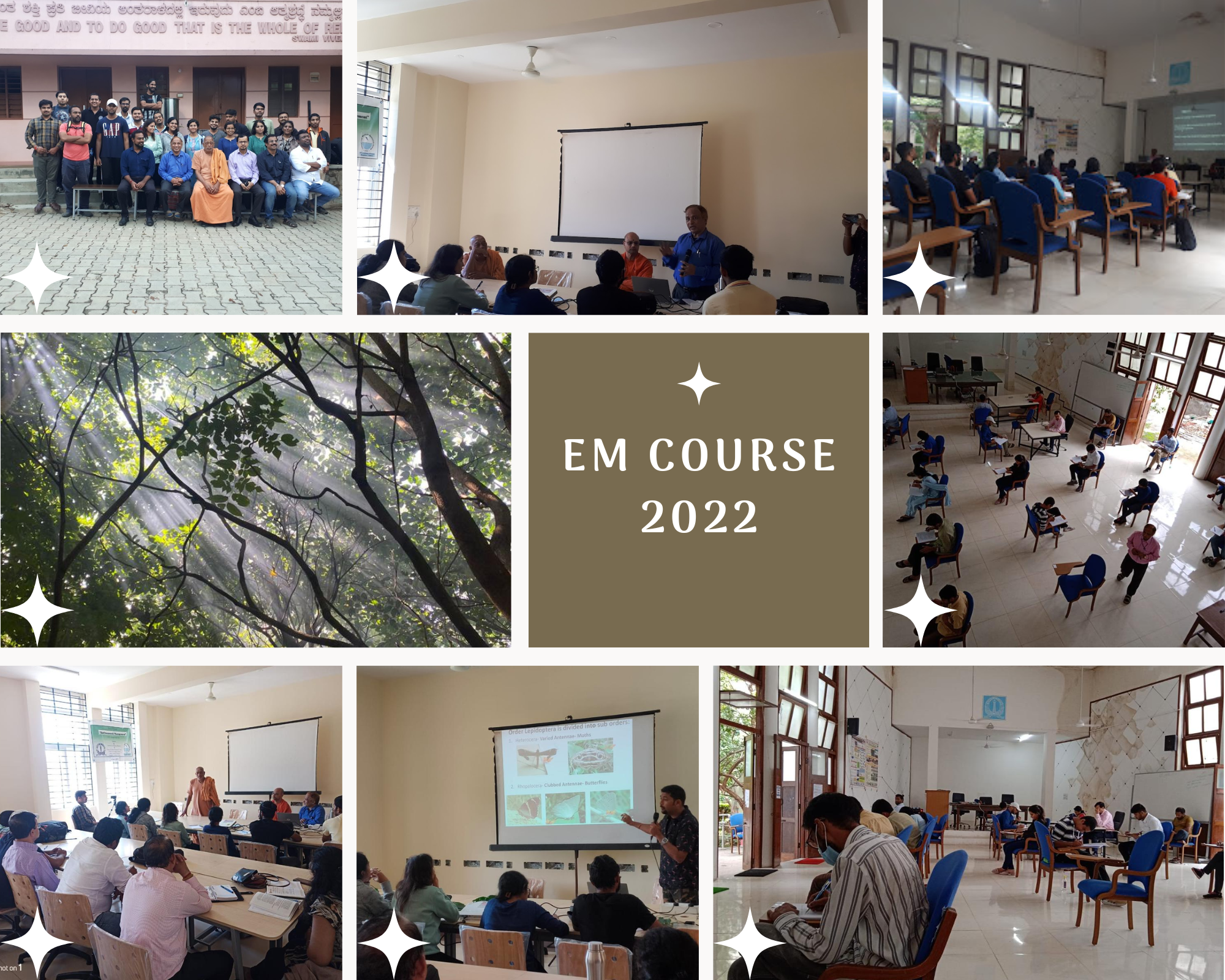 Glimpse of First Contact Session