INFORMATION FOR PARTICIPANTS
---
Date : 12 August 2023
Welcome to the Course on Environment Management 2023 -EM2023 @IISc
Dear Participant,
Welcome to the Environment Management Course 2023 @IISc (Greenskill Development Programme), 21st Session at IISc. On behalf of the Selection committee, I am happy to inform you that you have been chosen for the current session EM 2023, scheduled to begin on 1 Sept 2023 (Friday).
You all have now an opportunity to learn concepts related to the environment at a premier research institute - Indian Institute of Science. Discipline, sincerity, and punctuality are the hallmark of our organisation. The course would begin on 1 Sept 2023 (at 8 30 am) and the first session would end on 6th Sept with an examination on 4th Sept 2023 (between 2-5 30 PM). Please plan your session accordingly.
Please note
We have created email group – EM2023 (which includes all registered participants and faculty).
This email ID is used only by faculty for academic and administrative purposes
Please refrain from using 'reply all' option and all your queries pertaining to classes, assignments submission, etc. to be mailed to emram.ces@iisc.ac.in
Registration of the course – 1 September 2023, 8 00 am, CCE Lecture Hall (next to NESARA)
The current session would be at CCE lecture Hall (Next to NESARA restaurant / behind IISc Students' Hostel Office) during 1 to 6th September 2023.
Expert lecture (focuses on case studies)*5 Sept 2023, The venue may be at R K Mission, Shivanhalli (Near BNP) about 55 km from IISc ( Needs to pay Rs 200 per person to hand over to R K Mission- Please pay at registration desk)
Please note that the attendance is mandatory.
Examination of the first five chapters is scheduled on 4th Sept 2023 afternoon. Classes would be interactive with frequent evaluation – quiz, summary, etc during the presentation of chapters and case studies.
Assignments, etc. to be submitted to emram.ces@iisc.ac.in (TVR), sincyv@iisc.ac.in (Dr. Sincy V), asulabhas@iisc.ac.in (Dr. Asulabha K S)
Accommodation: Hoysala Guest House (Phone: 080 22932535). There are restaurants closer to CCE Lecture Hall / Hoysala guest house (NESARA/SARVAM COMPLEX) for breakfast and dinner (on payment)
Midterm Examination is on 4thSeptember 2023 Afternoon (2.30 to 5.30 PM).
Please bring 3 – stamp/PP size recent photograph for ID Card (charges Rs 25 per ID).
Date : 22 August 2023
Dear All
We have created EM2023 course portal with reference materials (including reference book - Environment Managment, all chapters) at https://wgbis.ces.iisc.ac.in/EM_course We have uploaded all chapters and also uploading now PPT slides of these chapters. You may note that the content is in 'self learning format', which means you will be able to understand the contact after careful reading.
Content of these learning materials are non-downloadable and you will have permission only to read

Mid term exam is scheduled on 4th Sept afternoon. Please go through first 5 (FIVE) chapters for the exam scheduled on 4th Sept. Question paper will have questions based on the content in chapters (1-5) and requires answers (2-3 sentences or a paragraph)
To access this portal, you need to have credentials (login and password), which has been sent by e-tutor Mr. Abhishek Baghel during the last week. I notice that many have not accessed the portal or checked the credentials.
In case you have not got login credentials, please contact Mr. Abhishek Baghel - abhishek2023@iisc.ac.in
You may note that all activities at the portal is recorded (candidate wise - referring content, quiz attempts, etc.) See you all soon virtually at https://wgbis.ces.iisc.ac.in/EM_course
Offline session will begin on 1 Sept, 8 30 am at CCE lecture Hall (next to NESARA restaurant and closer to Hoysala House). accommodation for out station candidates (who have asked for) has been arranged at Hoysala House.
Glimpse of EM course 2022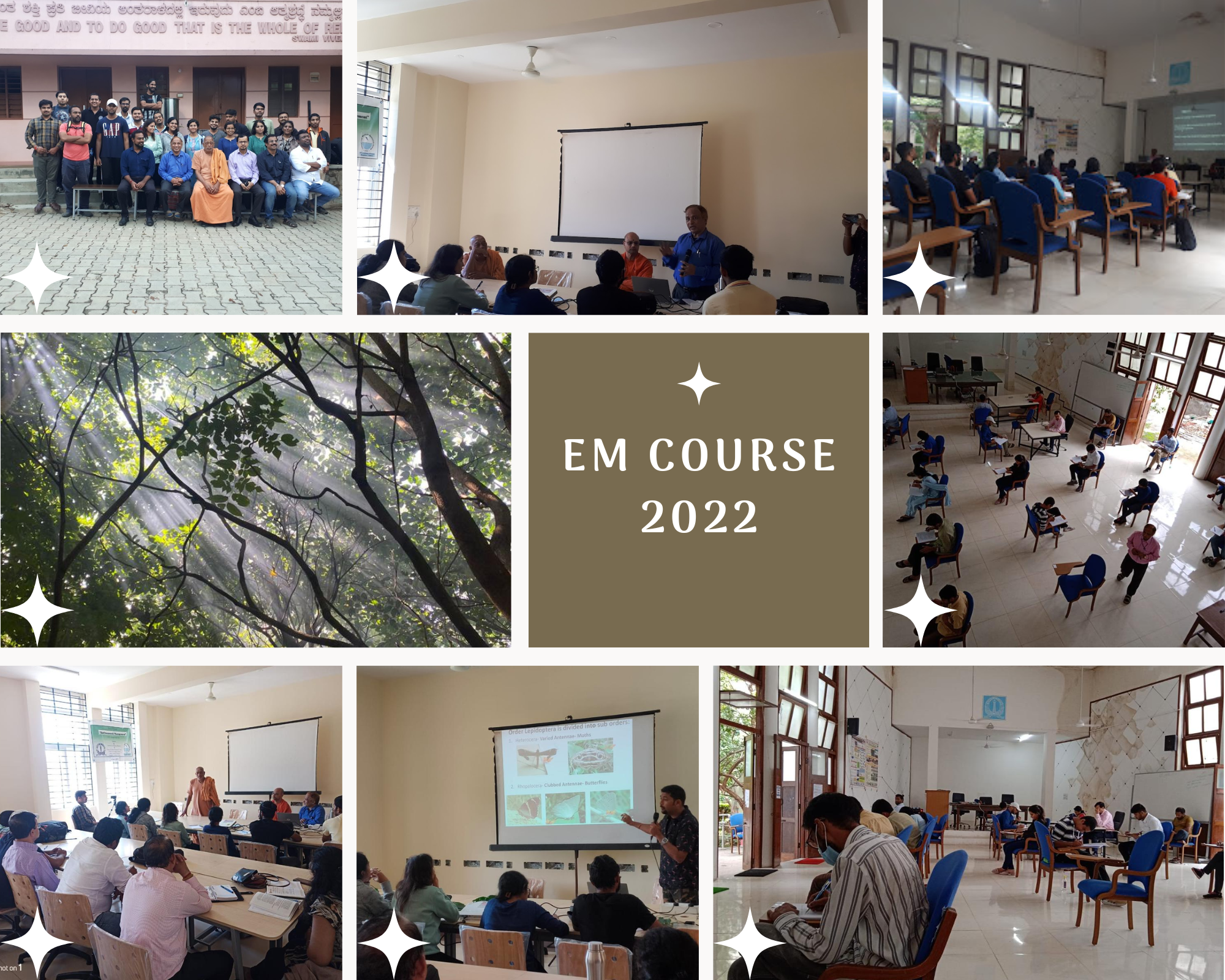 Glimpse of First Contact Session